Which MIDI keyboard is best for a home recording studio?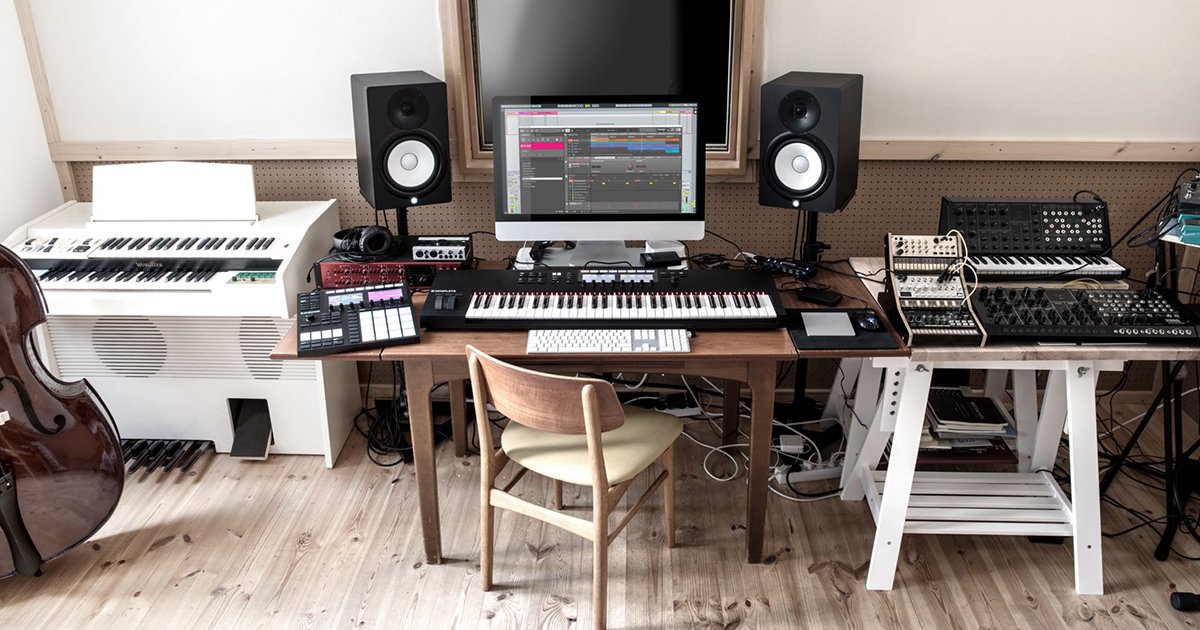 Thanks to new technologies, today's music producers need just four things to create music. A computer/laptop, a DAW program, decent headphones, and a MIDI keyboard. Today we will focus on the last element. We will provide you with a brief overview of the MIDI keyboards market.
Using a MIDI keyboard, even a small model, you can experiment with sounds in various octaves. This will allow you to create new harmonies and sounds, even if you don't know how to play the keyboard.
Even without any musical skills, you can still buy a MIDI keyboard and use in your own productions. Only by trying will you learn how to use all the functions of your keyboard.
Here are some tips on how to choose a keyboard for yourself. It's best to start by setting your budget. However, do not give up if you don't have a lot of money set aside. There are currently many options in a wide price range on the market.
You also have to decide on the number of keys. If you plan to produce typically bass music, you will not necessarily need a MIDI keyboard with 88 keys. On the other hand, if you want to create very melodic music or perform live, I suggest a model with 61 or even 88 keys.
Another aspect is the portability of the device. If you are often on the move or you do not have much space in your room/studio, it is best to look for a compact model.
Also, consider the weight of the keyboard. If you would like to have the feeling of playing a real piano then weighted keys will be the best choice for you. If it's not so important, choose semi-weighted keys, which are a combination of a weighted keyboard with a synthesizer keyboard. This is also a cheaper option.
MIDI keyboards at various prices feature functions such as knobs, pads, adjustments, plugin support and high-resolution display screens.
Think carefully about the aspects listed above, find the functions you need and choose the best MIDI keyboard for you.
Here are 7 of our suggestions:
1. Akai MPK Mini mkII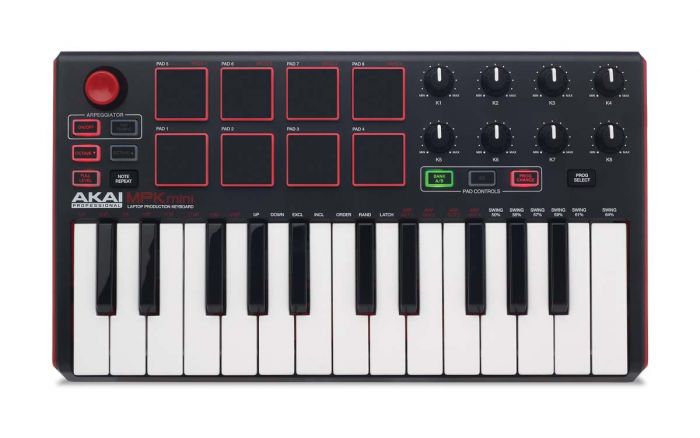 Compatible with all DAW programs
25 pressure-sensitive keys
8 drum pads (two banks)
USB power supply
weight: 748 g
It can easily compete for the title of the best portable MIDI keyboard. You can take it with you anywhere you like and create new sounds.
One of its best features is the 4-way joystick, which is used for tone control and modulation.
Akai MPK mini MKII includes the following software: AIR Hybrid 3, Sonivox Wobble 2.0, Akai Pro MPC Essentials.
2. Arturia MiniLab Mk II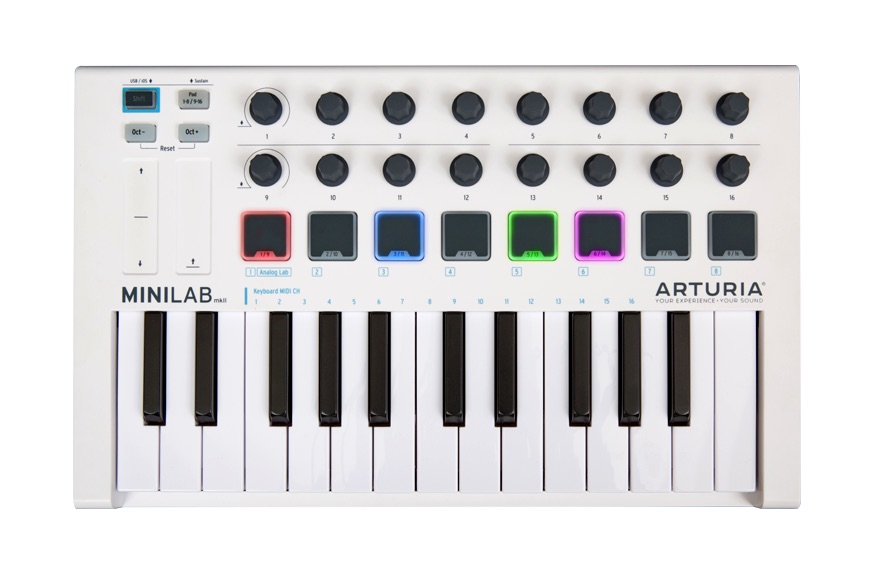 25 dynamic keys
8 high-quality touch-sensitive backlit colour pads
16 knobs (two with click function)
2 ribbon controllers
8 user settings
Sustain pedal connector
Octave up and Octave down switch
USB powered
Midi via USB – no drivers required
Compatible with Mac and PC
Kensington lock connector
Size: 35.5 x 22 x 5 cm
Includes dedicated Analog Lab 4 software which lets you play amazing synthesizers and also create your own sounds.
3. Akai Professional MPK249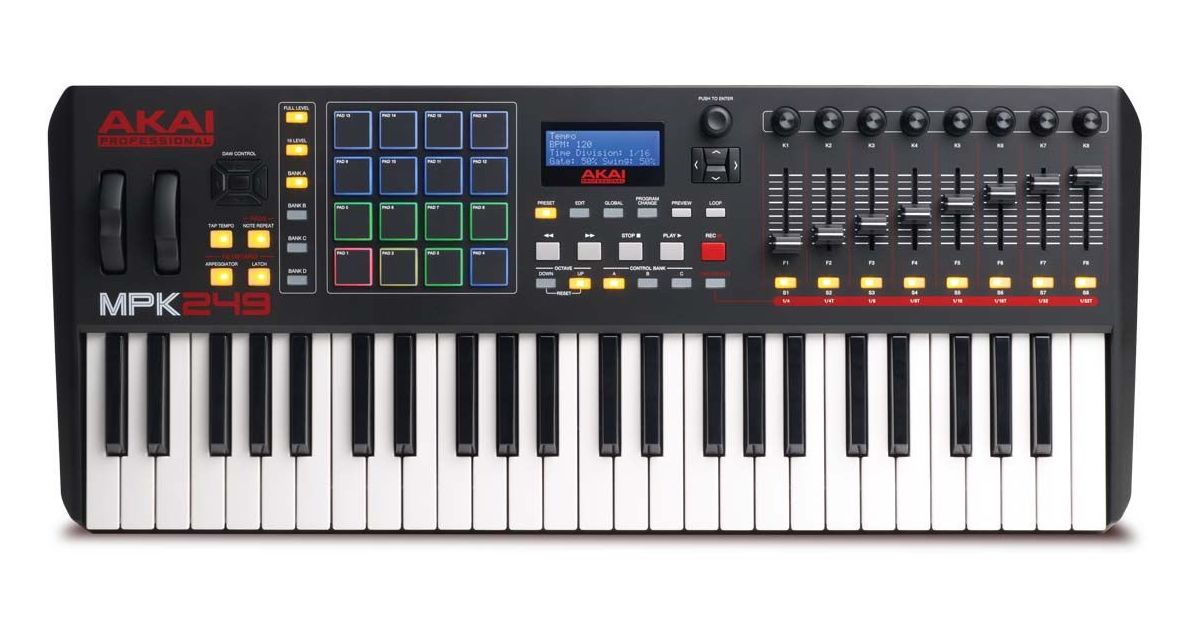 49 semi-weighted keys
16 pressure- and velocity-sensitive pads
Compatible with all DAW programs
USB power supply
weight: 5.7 kg
One of the more popular MIDI keyboards, used by many live producers.
The set includes: Ableton Live Lite Akai Edition, Hybrid 3, Sonivox Twist 2.0, Akai Pro MPC Essentials.
4. Native Instruments Komplete Kontrol S49 Mk2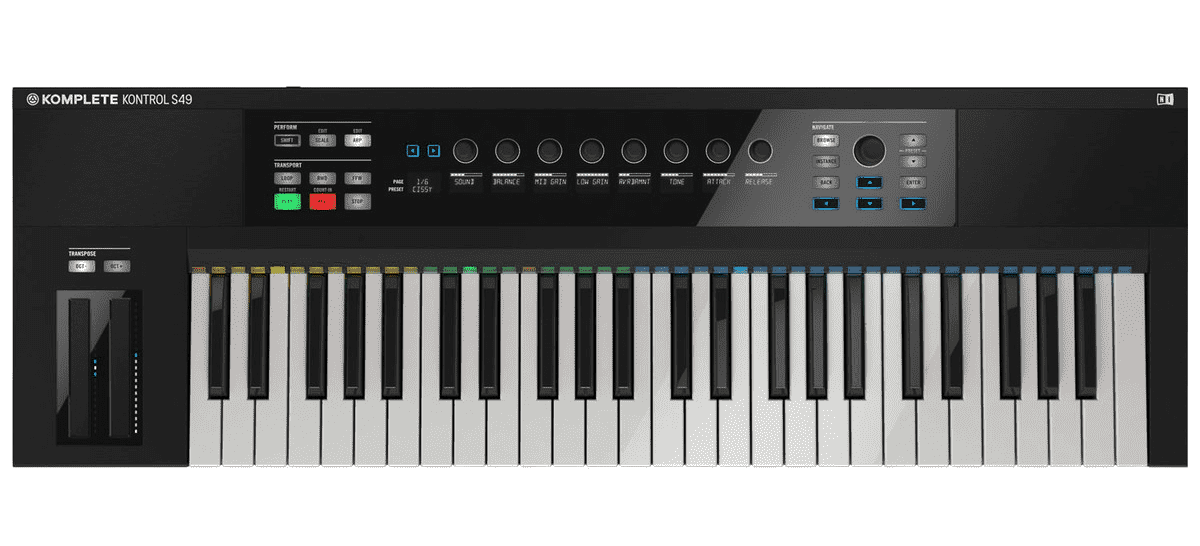 49 semi-weighted FATAR keys with aftertouch
The Light Guide system indicating numerous parameters, consisting of multi-coloured LEDs
16 keyboard zones
8 knobs
Ribbon controller
Pitch and modulation knobs
Compatible with all DAW programs
USB power supply
Weight: 5.5 kg
One of the best-designed MIDI keyboards. A great product, after all it is produced by Native Instruments.
It features the Native Map technology, which automatically maps all parameters of each of the KOMPLETE instruments to touch-sensitive controllers, and thanks to the Clear View displays each parameter is easy to read.
The keyboard is directly integrated with music production packages KOMPLETE 10 and KOMPLETE 10 Ultimate (also compatible with version 9).
5. M-Audio Code 49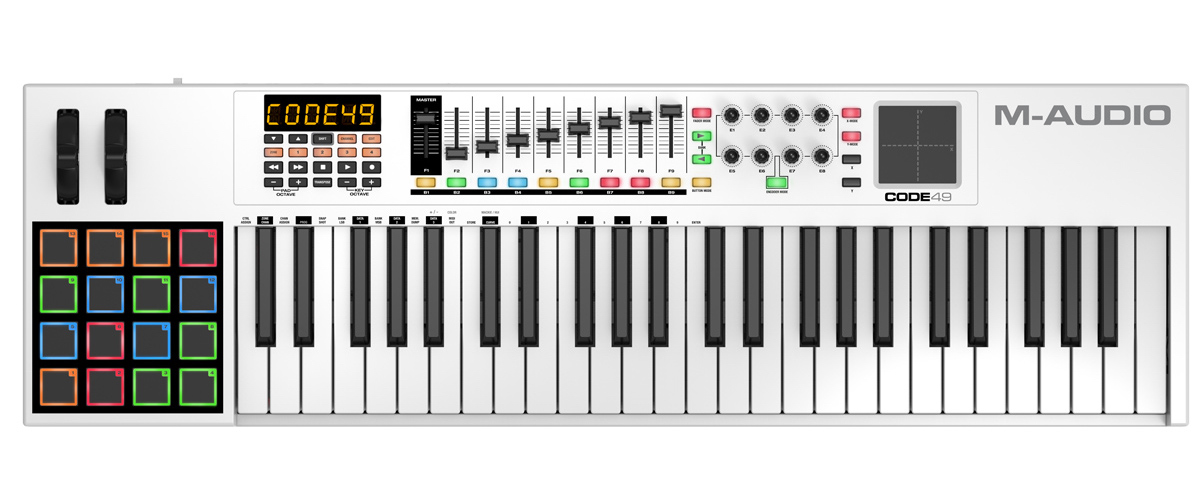 49 dynamic keys with aftertouch
Customizable XY pad for controlling HID and various parameters in virtual instruments
16 assignable, dynamic pads for triggering beats, playing clips and more
8 assignable 360-degree knobs, 9 configurable buttons, 9 configurable sliders for manipulating the DAW program, virtual instruments, and plugins
Pitch and modulation knobs
Compatible with all DAW programs
USB power supply
Weight: 4.5 kg
M-Audio Code 49 is a very efficient keyboard created for producers at various levels. The keyboard has a fully configurable XY pad. Not many MIDI keyboards on the market have such a function.
It is perfect for live performances and jamming.
The set includes Ableton Live Lite, full versions of the award-winning AIR Music Technology virtual instruments: Loom and Hybrid 3.0, which will provide you with unlimited access to the best creative tools.
6. Arturia KeyLab Essential 49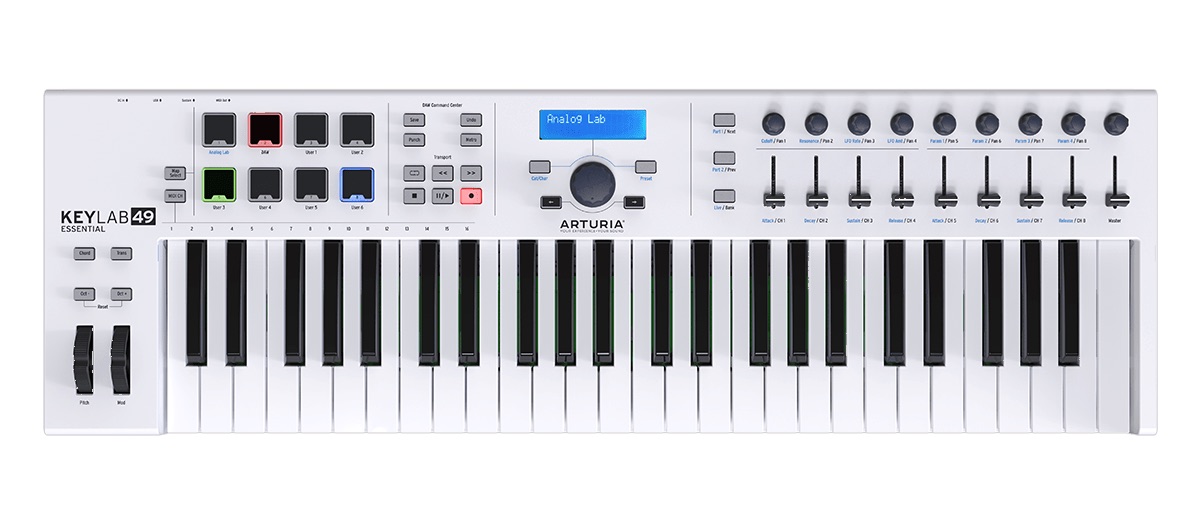 49 sensitive dynamic keys, 4 octaves
16 illuminated and pressure-sensitive drum pads
2 pressure encoders, 11 encoders
9 sliders
Pitch and modulation knobs
Compatible with most DAW programs: Pro Tools, Logic Pro X, FL Studio, Bitwig, Cubase, Ableton Live, Digital Performer, Studio One
USB power supply
Weight: 6.5 kg
Arturia KEYLAB 49 Essential has a housing made of high-quality aluminium and wood.
All aspects of Arturia KeyLab Essential have been carefully selected to provide the best possible experience when creating music and performing.
The set includes: Analog Lab with 5000 synthesizer sounds, Ableton Live Lite, UVI Grand Piano.
7. ROLI Seaboard Block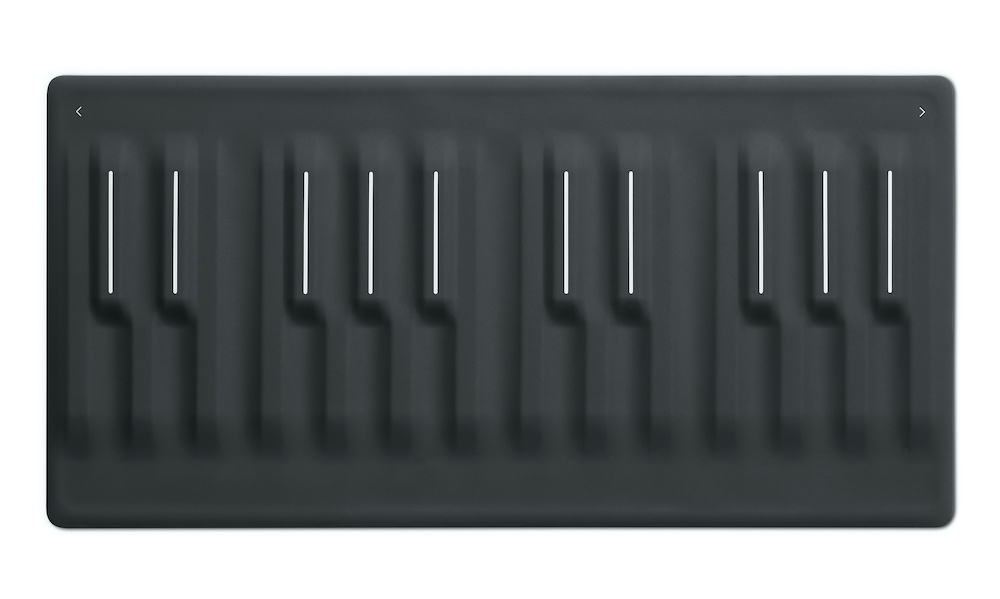 Touch 5D technology - instead of a traditional keyboard
24 Keywave, two octave playing surface
Compatible with DAW programs: Ableton Live, Logic Pro, Garageband, Bitwig
Connects to other blocks using DNA connectors
USB power supply, battery
Weight: 710g
The award-winning Seaboard interface
ROLI Seaboard Block is compact, had extensive possibilities and can easily be expanded by additional modules.
Its new technology allows to modulate the key, vibrato and volume just by moving your finger sideways and sliding it on the keyboard.
The set includes: NOISE, Equator Player, BLOCKS Dashboard.
---
This was our brief overview of MIDI keyboards. Remember, the most important features to pay attention to when buying a keyboard are:
Your budget
The number of keys
The weight of the keys
Customizable MIDI controllers
Virtual Instrument Player
Keyboard with aftertouch
Free DAW programs and plugins
Drum pads, knobs, faders
If you cannot connect the expression pedal to your instrument, try EX2M - expression pedal to MIDI adapter. This is another knob moved under the pedal! You can control the VST plug‑in settings in real‑time without using your hands. You can also connect the autonomous MIDI Expression Pedal EX3 via a standard 5-din connector directly to your instrument or via USB to your computer.
If this article has helped you choose a MIDI keyboard, please share it with others.