A2M real-time Audio to MIDI
AUv3 plugin and standalone app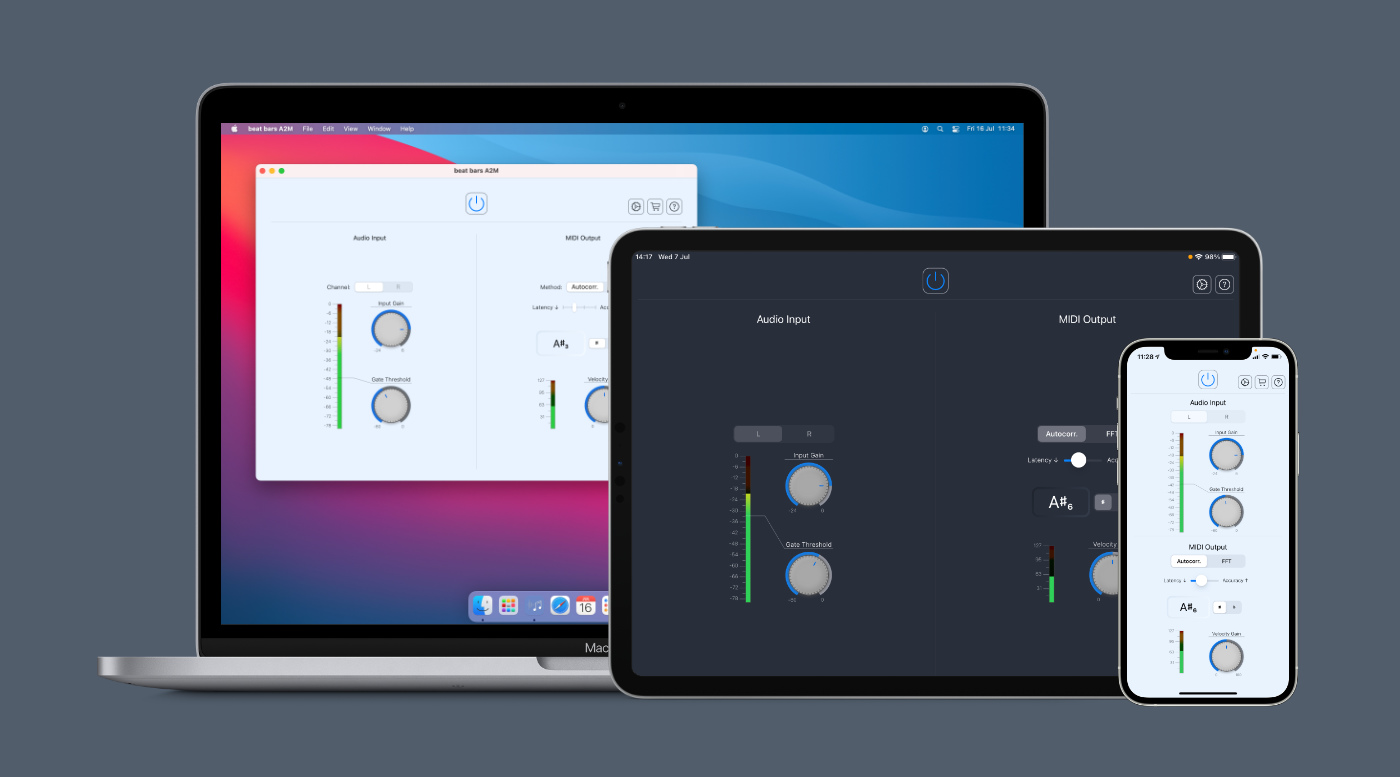 Turn your instrument or your voice into a MIDI controller.
Record your sessions on an instrument or sing and A2M will recognize your pitch and convert it into the correct MIDI notes in real time.
The application allows you to trigger sounds in virtual instruments (not only AU) by playing e.g. a guitar or saxophone. It will also recognize your humming.
With A2M, acoustic or electronic instruments, including your voice, become a MIDI controller. Just play the way you like and turn the melody into an instrument of your choice.
Try it free
A2M - Audio to MIDI AUv3
Live conversion
Two popular algorithms
Latency under control
Exceptionally accurate tracking
Simple to set up and use
Unique and innovative
If you have an iPhone, iPad or Mac, then why not experiment?
Try an unconventional way of creating music.
It's surprisingly easy!
A2M – two ways to use the app
AUv3 Plugin
The A2M is quite an unusual Audio Unit – it is both an audio effect and a MIDI effect. Due to its characteristics, it is something in between. On the one hand, it analyzes the input sound, just like any audio effect. On the other hand, it generates output MIDI events, just like any MIDI effect.
Not every Audio Unit Host supports plugins in this mode.
AU Hosts compatible with A2M Audio Unit:
Audiobus, AUM, apeMatrix
A2M does not work as an AU plugin in GarageBand – on both iOS and MacOS.
A2M works (though imperfectly) as an AU plugin in Logic Pro.
Standalone
The standalone version works with all MIDI-compatible applications, including GarageBand (iOS and macOS) and Logic Pro.
The app sends MIDI events via the virtual MIDI port.
See more in the
User Guide